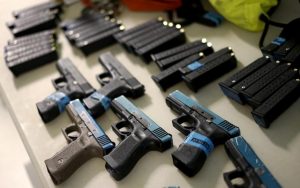 Join us on Friday June 9th from 10 a.m. to 12 p.m. for TAC*ONE Consulting's Concealed Carry / Personal Protection seminar. This informative, thought provoking, highly interactive class exceeds the requirements to apply for your Concealed Handgun Permit through your county sheriff.
Major Areas of Emphasis:
-Home Firearm Safety
-Basic Handgun
-Shooting Fundamentals
-Defensive Shooting
-Situational Awareness
-Gun/Gear Recommendations
-Use of Deadly Force
-CCW Regulations
The seminar will be conducted by TAC*ONE Consulting's Founder / President and former Jefferson County Sheriff's Deputy and S.W.A.T. Operator Joe Deedon. Since 2007 Joe Deedon has instructed thousands of hours of advanced training for local, state and federal law enforcement officers from across the United States. TAC*ONE Consulting's various programs have been conducted in 42 states and featured on the "Today Show", "Nightline" and "Good Morning America".
Thank you for you interest in attending this event on June 9th in Westminster, CO. We are looking forward to meeting everyone. You can use the below button to register for the class and receive the discounted tuition rate of $99.00. Shortly after payment is received you will receive a registration confirmation.