We are proud to be the official on site CCW training provider for every Tanner Gun Show in Colorado to include all Denver, Loveland and Pueblo shows. We offer three options a 3 hour Intro to CCW, 6 Hr CCW and 3 Hr advanced CCW for current permit holders.  The 3 hour Intro CCW covers all required material which will allow you to apply for your CCW permit. We encourage students to take the 6 hour course which includes hands on practical defensive shooting and Simunition® "force on force" based scenarios with live role players.  Until recently this type of equipment and training was only available to law enforcement and military personnel to train with.  Through our program you can go through the same type of training officers and military personnel do on a regular basis to test their marksmanship, decision making and prepare themselves for deadly encounters.
Our Tanner Gun Show Classes are 3 or 6 hours in length and are held monthly at all Tanner Gun Shows and other venues across the state.
***Gift certificates now available! Contact us for details***
2018 Tanner Gun Show Course Schedule:
3 or 6 HR – March 17th, 11am-5pm (Denver, CO)
3 HR – March 18th, 11am-2pm (Denver, CO)
3 HR – April 7th, 11am-2pm (Pueblo, CO)
3 or 6 HR – April 28th, 11am-5pm (Denver, CO)
3 HR – April 29th, 11am-2pm (Denver, CO)
3 or 6 HR – June 2nd, 11am-5pm (Denver, CO)
3 HR – June 3rd, 11am-2pm (Denver, CO)
3 or 6 HR – July 14th, 11am-5pm (Denver, CO)
3 HR – July 15th, 11am-2pm (Denver, CO)
3 or 6 HR – August 18th, 11am-5pm (Denver, CO)
3 HR – August 19th, 11am-2pm (Denver, CO)
Cost:
3 Hour Intro CCW $115.00 per student (Available Saturday or Sunday)

6 Hour Intro CCW with Scenarios $175 (Available on Saturdays Only)

3 hour Advanced CCW / Scenarios $100 (Available on Saturdays Only)

Classes are held at the Tanner Gun Show during the following hours:
11:00 am – 2:00 pm Intro – 3 hour class (fulfills CCW Licensing requirement)
11:00 am – 5:00 pm Intro with Scenarios –  6 hour class
2:00 pm – 5:00 pm Advanced – 3 hour class
Purchase online:
Point of Contact: Joe Deedon at (720) 432-3229
joedeedon@taconeconsulting.com
*****Important Information Regarding CCW Permits*****
-You must be 21 years of age at the time of application
-Pass a background check.  The purpose of the background check is to determine if all required paperwork was submitted, and whether or not the applicant meets all criteria specified in  C.R.S. 18-12-203
-Here are a few things that will prevent you from obtaining
your license
– A Felony conviction
– Convicted of ANY domestic violence charge defined in Federal Code of  regulations 178.11
– Dishonorably discharged from the Armed Forces
– The subject of a civil or criminal restraining (protection
order) preventing you from possessing a firearm.
In addition to offering Concealed Carry courses at all Tanner Gun shows in Colorado, we can schedule additional CCW classes for groups. This includes Advanced CCW in addition to the Intro course. CLick here for information on our advanced class.
TAC*ONE Consulting has been committed to bringing quality cutting edge training to law enforcement. We are pleased to offer a certified personal protection/concealed carry training courses for citizens. Our course exceeds Colorado's training requirements for concealed carry licenses.
It is our belief that in order to be successful one must be aggressive and mentally prepared to deal with the situations one might encounter. All of TAC*ONE Consulting's curriculum is built with the principles of that philosophy in mind.
Learn firsthand from instructors who have actually been involved in deadly encounters not just someone with theoretical knowledge.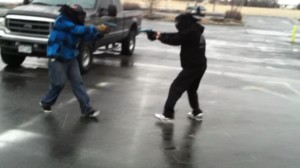 This is NOT your average CCW course.  During our 6 Hour CCW and 3 Hr Advanced CCW classes you will participate in real life situations that are not offered in ANY OTHER CCW classes in Denver. TAC*ONE Consulting's CCW course is hands down the BEST around. Students will be using Simunition Glock 17 pistols that shoot plastic projectiles containing colored soap. Until recently these "Force on Force" weapons were only available for Law Enforcement and Military use.  You will engage role players with these weapons which cycle / recoil exactly like a Glock 17 9mm.  Don't waste your time attending another cheaper, shorter CCW class that will not truly prepare you to make what could be a life changing decision in seconds.  Carrying a concealed weapon is a huge responsibility and the importance of effective training to do so should not be taken lightly. REAL WORLD. NO BULLS*%#!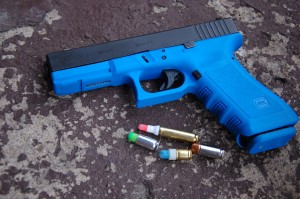 Glock 17 converted to fire simunition cartridges
Our intro course is 3 hours in length and will cover three disciplines and additional issues pertinent to concealed carry.
Home Firearm Safety
•Rules for safe gun handling
•Identifying and unloading different types of firearms
•Practical exercises in safe gun handling
•Types of ammunition
•Cleaning and safe storage of firearms
Basic Pistol
•Pistol knowledge and safe gun handling
•Ammunition knowledge
•Stance, grip, breathing
•Skills relating to controlling the handgun while shooting
•How to clean and care for guns
•Sight alignment and trigger control
Personal Protection
•The importance of avoiding confrontation.
•Alternatives to lethal force.
•Ammunition
•Planning for confrontations which might occur inside and outside the home.
•Attitudes, thinking, and safety for self-defense
•The role of handguns in personal protection
•Defensive shooting skills
At the culmination of the course students will walk away with an understanding of what one may encounter during a deadly situation and the skills necessary to increase the chances of life preservation. TAC*ONE Consulting achieves this by building each students knowledge base by incorporating real life training scenarios throughout the course.
Although a student will be able to apply for a CCW permit after completing this course it is also beneficial for those who may not wish to carry but protect themselves and family members inside their home.
After you have taken our Intro Concealed Carry Course or 6 Hour CCW, you can continue with our Advanced CCW class as well.
Classes are 3 or 6 hours in length and are held monthly at all Tanner Gun Shows and other venues across the state.