For School Faculty
Looking for a corporate or government facility option?  
Also Available: Beyond the Lockdown for the Workplace
Click Here For More Information
"Beyond the Lockdown" has been featured on "Today Show", "Nightline", "Good Morning America", Denver's Channel 7, and expertise of its developers featured on many more news outlets such as CNN!
Overview
A cost effective alternative to on-site training 
Incorporates the same principals and practical exercises
Widely distributable format
All staff trained to the same standards and procedures
Effective group response to an active shooter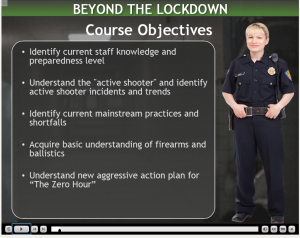 An interactive eLearning training program designed to help prepare school faculty, government facilities and corporations with an aggressive response to an active shooter. It is no secret that the actions of school faculty during a critical incident will save more lives than responding law enforcement officers. Statistically, once the shooting starts, a life is taken every 15 seconds.
It is imperative personnel act quickly when implementing their response.  This means having a solid and practiced plan staff and faculty can be confident in.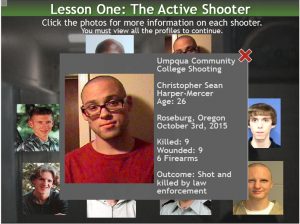 Based off our popular on-site program, our eLearning version is packed with useful information in a very interactive format to keep the user engaged, motivated and thinking throughout the course.  The program emphasizes the "Run, Hide, Fight" model following current recommendations of several national organizations and government entities. This program takes it a step further by educating users on basic firearms and ballistics and offering an optional physical response to shooter contact.
After course completion users will be able to identify an active shooter situation and rapidly make INFORMED decisions within those crucial first moments of an active shooter incident.
Course Objectives
Identify current staff knowledge and preparedness level
Understand the "active gunmen" and identify active shooter incidents / trends
Identify common mainstream practices and shortfalls
Acquire basic understanding of firearms and ballistics
Understand new aggressive action plan for "The Zero Hour" to include plans to evacuate, lock-down, and response to shooter contact
Receive training recommendations
Pricing:
Individuals – $49
Group Rate for 30+ Staff Members – $39 Per Student
Custom Programs Available for Schools and Workplace – Call 720-924-1122 or Contact Us Here for a Quote
Course Registration