Law Enforcement Tactical Tracking Operations & Training Course
This class is designed to introduce law enforcement officers, border security officers, military and search and rescue personnel to a highly effective skill set.  A trained tracker has the ability to successfully track a person in rural and urban environments.   An important component of locating and utilizing shoeprint impressions as evidence is placing a person at a crime scene or a specific location.  Successful completion of this course also prepares a student for operations including;
Fugitive tracking operations

Border security

Tactical tracking operations

Tracking drug smugglers

Missing persons

Poaching operations

Marijuana grow detection operations

Utilizing track as evidence

Search and rescue missions

The course includes approximately 40 hours of  classroom and field exercises (mostly field exercises).  Students will participate in team building and some individual field exercises.  Field exercises will involve labs, scenarios, practical exercises.  Core testing of each of these components plays an integral role in the students tracing development.  The student who successfully completes the training will be proficient in:
Basic tracking principals

Interpreting sign and shoeprint impressions

Case development through crime scene and evidence analysis

Crime scene tools and tricks of the trade

Micro and macro tracking

Lost track procedures

Leadership and team operating skills

Camouflage and concealment principles

Basic map reading and GPS use 
Night tracking
Communications and incident command from a tactical track or search and rescue operation
Use of shoe print impressions to develop probable cause
Development of Ad Hock or Hasty team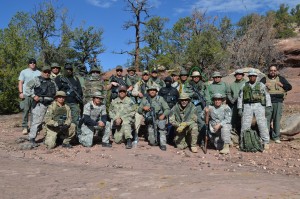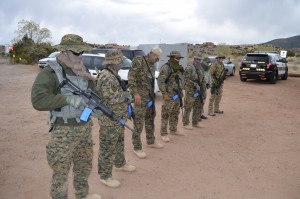 Our instructors are former law enforcement officers with real life tracking experiences and have many years instructing Federal, State and local law enforcement and Special Forces personnel.  This training incorporates current and applicable scenarios related to giving students the ability to observe shoe print impressions and sign and interpret an event which occurred at the scene.  Anticipating an ambush situation or interpreting counter tracking techniques by observations on the ground and surrounding terrain.  Our program has evolved from feedback provided  by our students and real life tracking reviews of successful tracking operation including tactical and SAR.
This tracking course involves 5 days of comprehensive field exercises in support of the limited lecture presentations.  The training also includes a night tracking session utilizing artificial light sources.   Any law enforcement officer, or military personnel involved in operations in rural, urban or interface environments will benefit greatly by participating in this course and will be able to utilize this highly effective and applicable skill set in the course of their duties. Students will participate in short and long tracking exercises with one day involving a full day tracking scenario.  There are no prerequisite's for this course.  Outdoor skills including land navigation are beneficial but not essential.

Cost: $750.00 per student
*group rates available
Gear List: Tactical Tracking Gear List
Two to three pair of camouflage BDU shirts and pants (any camouflage pattern)

Field jacket or fleece (per time of year)

Shemagh or camo handkerchief

Gloves

Warm head gear and/or Boonie hat (per time of year)

Rain gear

Sunglasses

Hiking boots (broken in, ankle high are recommended, with extra pair of socks when tracking)

One half, or one day field pack to include a hydration system

Compact flash light (with red, blue, yellow or green filters)

Mole skin

Electrolyte supplement

Sun screen

Compass

Pocket size signal mirror

Personal GPS unit (optional)