50 Hour TEMS Course
***This course is open / designed for unarmed and armed TEMS students*** Follow this link to see a list of the Tactical Medicine Instructors and their credentials for this course.
We are listed by EMT Careers.COM as a quality provider of TEMS training! Tactical Paramedic Jobs: Providing Critical Care in Hostile Environments | EMT CAREER CENTER
This Tactical Medic course is instructed by highly trained professionals who are current TEMS providers, Special Forces Medics, Swat Medics and  Emergency Medicine Instructors, bring years of experience to the table.  During the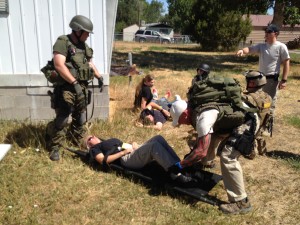 five day course you will be tested mentally and physically on the combat medical skills and tactics.  We will cover many topics like pre planning, operator health, remote assessments, tourniquets, bleeding control, basic combat medicine, basic room entry and swat tactics.  We will also incorporate live fire / simulation scenarios with casualty evacuation and protection.
This course is continually updated with the latest medical training and methods in tactical pre hospital care and with the focus of (PHTLS) Pre Hospital Trauma Life Support and medical treatment under fire.
This course will give you the training needed to provide quality tactical medical support to Law enforcement agencies enabling you to bring good medicine to bad places.
This course is accredited by NMDPS and NMEMSB for 8 CE's and the national tactical medic association.
---
"We've Been There…"
TAC*ONE Consulting  is committed to provide a cutting edge TEMS School.  Participants will be mentally challenged in a high stress environment while learning the basic skills needed to become a functioning Tactical Medic.
We are currently looking for host agencies in your area.  Being a host agency is a great way to bring quality training to your area while saving valuable training funds (free host slots).
Cost:
$1,100.00 per student
Point of Contact:
Joe Deedon
TAC*ONE Consulting
(720) 425-5687
joedeedon@taconeconsulting.com
---