Concealed Carry Training – Advanced CCW Weapons Training
Truly Prepare yourself…
6 Hour Advanced Concealed Carry / Personal Protection Course
This is NOT your average firearms course.  You will participate in real life situations that are not offered in ANY OTHER CCW classes in Denver. TAC*ONE Consulting's Advanced CCW course is hands down the BEST concealed carry weapons course around. It is designed for current CCW holders who would like to hone their personal protection skills for real life situations they may encounter. Students will be using Simunition Glock 17 pistols which shoot plastic projectiles containing colored soap. Until recently these "Force on Force" weapons were only available for Law Enforcement and Military use.  You will engage role players with these weapons which cycle / recoil exactly like a Glock 17 9mm.
Major areas of emphasis are Personal Protection  / Defensive  Shooting Tactics, shooting from and around vehicles, barriers and engaging multiple targets.  Learn the importance of "defensive shooting" and situational awareness so YOU not your attacker will control the outcome.

This advanced CCW course is 100% hands on practical application with no classroom. We will be running and gunning from the get go!
**Courses are taught by area Law Enforcement Officers**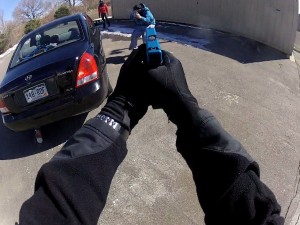 Advanced Concealed Carry Personal  /Protection Course:
When:
Dates TBD
Cost:
175.00
(Includes 50.00 in ammo required)
Downloadable Course Information:
ADV CCW Brochure
Point of Contact / Registration: Joe Deedon (720) 432-3229