If you have found us from The Today Show piece, welcome.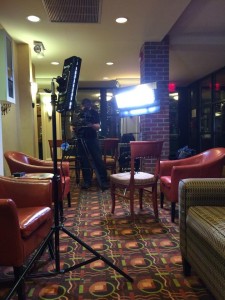 As we write this, it hasn't aired yet but will air early tomorrow (Wednesday 11/13), most likely before we have time to update here with more information about it.
Here's what we know. Tonight a news crew from The Today Show interviewed Joe Deedon in his hotel room in Saratoga NY. He is there conducting a training in a local hospital. He was interviewed regarding the 911 dispatch recordings from the Marysville High School shooting in October.
The Today Show begins airing at 7:00 am your local time. We don't have an exact air time so set your DVRs. The interview went well. Joe discussed the 911 dispatch recordings from the shooting. He touched on how well the teacher did that was inside the cafeteria and what information is needed when you call 911 during a mass shooting type incident.
We will update here with further info and a video clip when available.
Updated 11/13/14
Here is the video clip that aired on The Today Show this morning. It was also used on other NBC properties, particularly online, such as MSNBC and NBC.

Here are a few of the online stories that appeared as well.
If you are looking for more information on Active Shooter Training for schools, you can find it here>>> School Faculty Training