Thoughts on Shootings: Recent Events
The past week have been filled with news of shootings, the 4 most noteworthy cover 2 officer shootings of 3 Mounties in Moncton, New Brunswick, Canada & 2officers in Las Vegas, a college shooting incident at Seattle Pacific University and today an active shooter incident in a suburb of Portland, OR at Reynolds High School.  And there have been others as well in this past week. In fact, as I scan my twitter feed I believe there was another today in Vancouver.  These 4 in particular have gained the most media attention for a variety of reasons.  And they cover a variety of our clientele involving officers and schools.  But the question remains, where is the tipping point? What is next?
Both of the shooting incidents involving officers have hit us a bit hard. Any time we lose a fellow officer it is an enormous loss. But I personally have many ties to the Las Vegas LVMPD and quiet a few of our trainers and instructors are there or have been. We've had students from the Mountie unit as well. So, just a little closer to home this week.  And so the questions I ask may seem a bit more uncharacteristic. But that happens when it is personal.
Sort of empty questions without answers. But here's another question. What are you doing to be prepared? Are you prepared? Whether you are a county sheriff office, an urban police unit, a resort or casino, a school district, hospital, whatever. What are you doing to be prepared? Are you giving YOUR people the best chance? Are you providing them with the training they need to think through the chaos, be aggressive and do what needs to be done?  If you are an individual reading this, have you done anything on your own for YOU to give yourself and your family the best chance?
We will continue to provide our students with the training that will give them the best chance. It is what we do.  Whether it is EMT's needing mass casualty care training, SWAT teams to stay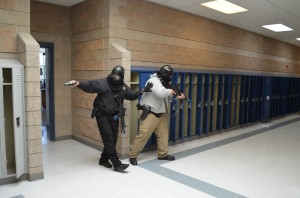 fresh and prepared or school faculty needing to learn what they can do in their environment to get them out alive – we will continue to always do our best job to put our students in as close to a real situation as possible and show them how to react when there just is no time to think about it.
As today's events unfolded I was contacted by a reporter in Oregon who was writing a piece.   Here is his article.  #5 in the article's list will begin immediately in all of the active shooter incidents from this week, if they have not already. Details we don't know yet will be released.  Some we already do, such as student & volunteer Jon Meis at Seattle Pacific University following his gut through the adrenaline chaos and aggressively taking on the shooter.
Are your ready to be prepared? Here's what we have coming up.
Our most sincere condolences to the victims in all 4 of the mentioned events.