Registration for Police Training & Civilian Courses
If you have been to the TAC*ONE Consulting site before you are noticing many changes.  And if you are new to us, welcome!  We have recently redesigned the whole site and the next few posts will point a few things out to you.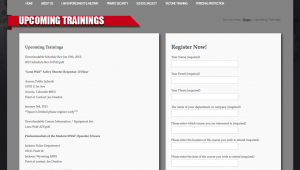 If you are interested in any of our courses, you can now register online.  Take a peek at our Upcoming Trainings and find the class that fits your needs,  Some are police training classes such as Active Shooter Trainings, others are civilian trainings such as Concealed Carry. There are a variety of location, some courses are in the Denver area and many throughout the country. You will notice that some courses are only open to specific groups. As we type this we are wrapping up an outstanding session at the Annual Alaska State Trooper Conference and headed to Florida for our next class.
If you don't see a class that works for you, contact us and let us know.  We are always considering new locations for all of our trainings and perhaps we can bring one to you as well.  You can also fin information about hosting a training as well.
Our next sessions are:
Dignitary Protection – Miami FL,
Warrant Execution  – Elko NV
"Lone Wolf" Advanced Officer Survival Training – Las Vegas NM.