Monthly Newsletter for Police Officer & Civilian Training Courses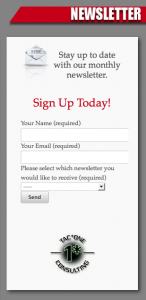 Along with our new website, the TAC*ONE Consulting Newsletter is now available.  Updates will keep you informed monthly on the latest information about our upcoming training courses.  You can sign up for our newsletter right here online on the homepage and just make note if you are a civilian perhaps interested in CCW training or self defense or a law enforcement or military officer.
Topics will vary, we will keep you up to date on our whereabouts, new trainings and everything else that comes up.  If you have already been to any of our training courses it will be a great way to stay in touch.
Classes & Registration   Subscribe to Newsletter